SPEED SISTERS
BY AMBER FARES

Amber Fares is a Canadian-born filmmaker with Lebanese roots residing in Ramallah, Palestine. In the aftermath of 9/11, Amber left her career in marketing with some of Canada's biggest brands to deepen her understanding of life in the Middle East. In response to her experience, Amber co-founded SocDoc Studios to produce story-driven films that explore social issues. Her directorial debut short, Ghetto Town (2009) has been shown at film festivals round the world. Speed Sisters is her first feature length documentary.

Director Amber Fares in a junkyard outside of Ramallah, Palestine. This is her first feature length film.

I grew up in a small town in Northern Alberta, Canada, both my parents were of Lebanese origin. My grandmothers played a big part in our childhood, allowing Lebanese and Canadian culture to swirl around in our home. We ate a lot of humus and played a lot more hockey.
Yet, after the attacks on the Twin Towers on 9/11 my world changed. All of a sudden, Mosques were being vandalized. My parents were getting threatening phone calls telling them to go back to where they came from. For the first time, I felt like an Arab in Canada, a stranger in my own home.
My aunt invited me to see a documentary called The Children of Shatila about the fate of Palestinian refugees in Lebanon. The film inspired me so intensely that a week later I was on a plane to Beirut with my camera in hand. I felt an urge to better understand my roots in order to make sense of what was going on in the world. It was through this experience that I really grasped the power of stories to open doors and to give access to worlds that would remain otherwise unnoticed.
After multiple trips to the Middle East, I found myself at a car race in Bethlehem in the Occupied Palestinian territory. With all of the restrictions on freedom of movement, I was surprised to find an organized car race in Palestine. The race took place in deceased President Arafat's old helicopter landing pad, on a hill of Bethlehem. More than a thousand people seem to have gathered to cheer the race, dance and celebrate. And at the heart of the event were four women. It just knew I had to learn more about them.
Speed Sisters is a feature-length documentary following the first all-women racing team in the Middle East. Intimate and action-filled, the film shows inspiring and unexpected images from a region where one-dimensional vision saturate media coverage. Subtle, yet ever-present, politics are at the backdrop of the life of these five young protagonists fighting to achieve their dreams against all odds. Speed Sisters avoids a heayy-handed approach to big political questions, allowing viewers to discover what politics mean when you can't avoid it.
Personally, I hope this story will inspire girls and women around the world to believe in themselves enough to pursue their own path in life, despite inevitable obstacles. With the hook of cars and racing, the film is also uniquely positioned to reach boys and men, creating an opportunity to explore the ways gender equity offers a better future for both genders.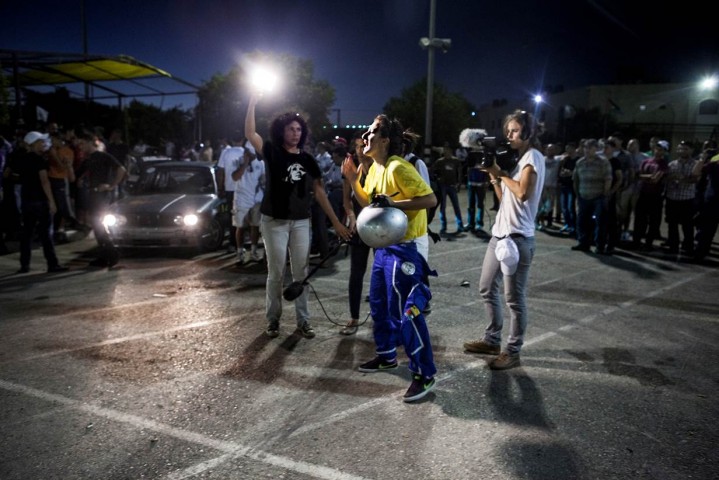 Director Amber Fares with Cinematographer Lucy Martens capture the drama at a race in Jericho, Palestine.
To stay up to date on Speed Sisters visit www.speedsisters.tv or follow us on Facebook and Twitter.
Watch the Speed Sisters Trailer below: