SHY NO MORE
BY SOOLMAZ ABOOALI
My family left our homeland, Iran, shortly after the Islamic Revolution in search of freedom and opportunities. As refugees, we flew and walked thousands of miles through several countries. Imagine being captivated by the luxury of a slice of apple. Imagine also that the only friends you have are imaginary and made out of a pillow, named "Biggie." This is only the visible tip of the iceberg of what it means to live as a refugee, with no help, no support, left with your own will.
In the United States, I laid down roots and began a life founded upon what my parents fought so hard to provide – freedom. This very concept enabled me to openly pursue my interest in martial arts, sparked by the 1980s movie, "American Ninja." As my interest in the martial arts grew, my size, frustratingly, did not. Despite the fact that there are no height or weight limits in traditional karate, a non-contact form of martial arts that focuses on the holistic development of the individual through consistent physical training, my petite stature is a rarity. During fighting, bigger athletes usually dominate smaller opponents using their reach and strength advantages. With so many people doubting my ability to successfully become a contender in this art, my own belief in myself is tarnished.
But I learned from my past. My parents overcame obstacles and took responsibility for improving our lives. I realized that I needed to take responsibility for myself. I decided to overcome the obstacles of size and wavering self-confidence and shouldered the responsibility to select and improve the actions, attitudes, and behaviors that drive my life. Otherwise, where would I be if others exercised the right to control my fate?
More difficult than rehashing the details of my past in moments of self-reflection is seeing and accepting my own strengths and weaknesses that came through during physical training. The idea behind traditional karate is not only to learn self-defense; it is to constantly and holistically improve oneself through a lifetime of training. This is not an easy feat, technically or philosophically. And it is precisely this concept that makes traditional karate – as well as sports that seek greatness of ability – an effective vehicle for a woman to become her own best version of herself.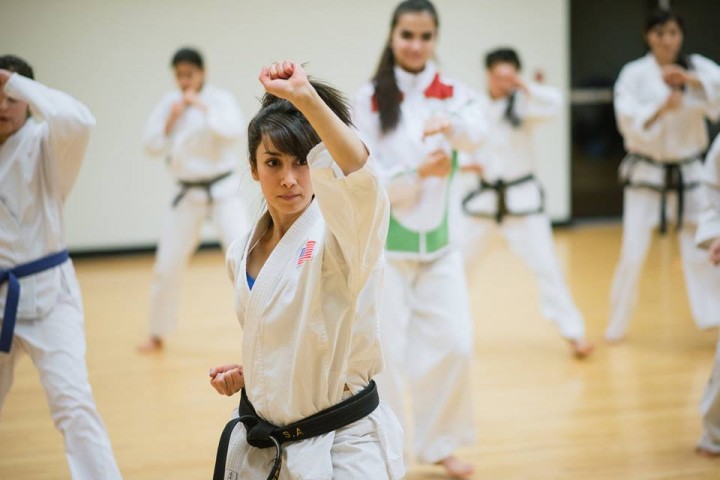 Soolmaz Abooali instructs a class of Traditional Karate pupils in Virginia, 2014.
In my capacity as an athlete and aspiring scholar, this very point is what I impart to a cross-sectional audience during speeches and initiatives. Most notably, I have implemented an innovative curriculum, teaching conflict resolution skills through the practice of traditional karate to youth in public schools. Training in this manner essentially sets up a laboratory for exercising life skills. Kids who were once shy are shy no more, those who were followers are followers no more, and those who felt helpless are now empowered. The beauty of it all is that they're embracing education without even knowing it – as if veggies are being snuck into a lasagna dish!
Striving to achieve my best self through sport and applying this same system into other aspects in life is what drives me. Today, I am a doctoral candidate in conflict analysis and resolution, a 10-time US national champion and international medalist. After my most recent tournament, I gifted my gold medal to a little girl in the audience named Grace. A few days later I received a thank you letter from her, and the words, "I want to work very hard to become accomplished like you some day." I am proud that she took not only took initiative, but also recognized the value of hard work!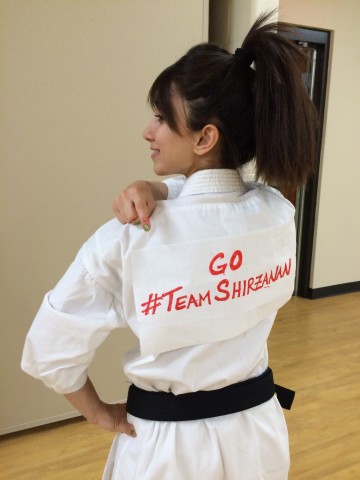 Soolmaz Abooali wears the #TeamShirzanan hashtag to support the #RideForRights awareness campaign. Taken in Virginia, 2015.