IN THE NAME OF AFFORDABLE HOUSING
BY PATIENCE OGBO

Lagos is one of the fastest growing cities in the world and one of the least studied, understood or planned for. With an estimated population of 21 million, Lagos grows by the size of its ever-exponential slums. There are 13 main shantytowns accounted for in the metropolis including the infamous Ijora-Badia, a high-density area, ridden by crime but with a vibrant economy. Ijora-Badia is constructed out of scrap wood parts and iron sheets sprawled all along the canal, yet getting a room in the ghetto used to be expensive as Lagos that labels itself as the "Centre of Excellence," and keeps attracting migrants from within Nigeria and neighboring countries.
But, last year on September 18th 2015, two hundred security operatives came with bulldozers at two in the morning to tear apart over 3,500 houses thus shattering everyone's livelihood. Residents were prevented from grabbing any of their belongings. Since then, rendered homeless, thousand of women and girls have seen their lives downscale from poverty to abject misery as many men leave them in charge of the sick and the elderly as well as of their own survival.
Biola Kelly, 56, a widow and mother of six, is the coordinator of the local branch of Good Women Association, a girls' and women's rights group for slum communities. Her home too was destroyed. "My grandfather was the first to come to Ijora Badia and I was born here" she says: " I used to work as a landlady managing four houses, all were destroyed." Kelly and her children have been sleeping in the open, along thousands of others and the haunting memories of heavy machinery tearing their homes and belongings apart. But she also has everyone else to take care of. Good Women Association is overwhelmed: since the eviction, hundreds of women have started begging, prostitution has become rampant as women struggle to provide shelter, food and safety for their children who, additionally, can no longer attend school. "Survival has become so dire that we have seen women abandoning their newborn in canals and pits because they just can't feed them" Kelly says.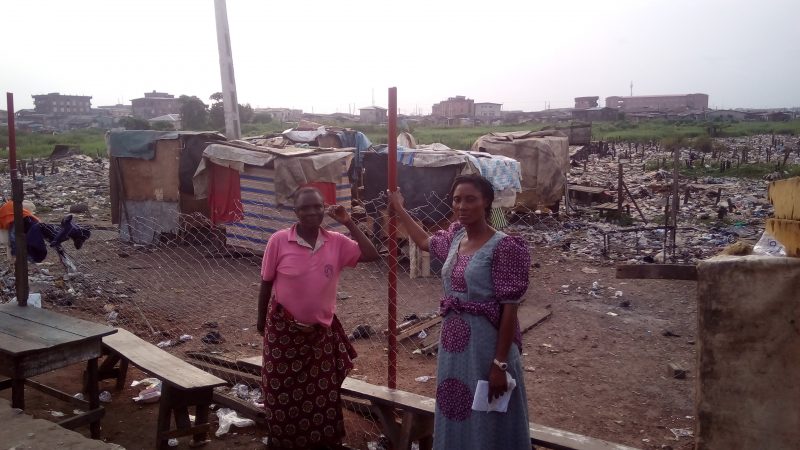 Mrs. Kelly (right) with an evicted resident.
Lagos state says that slum residents are illegal and not entitled to compensation but the residents claim that they were relocated to Ijora Badia by the federal government itself.
The Lagos state Commissioner for Information and Strategy, Mr. Steve Ayorinde, did not answer telephone calls or text messages.
This is not a first for this community. RUDI (Rural Urban Development Initiative), an NGO promoting decent housing, claims that more than 10,000 residents have been displaced from Ijora-Badia since 1929 when the federal and state governments took over the land to build a railway line. By the early 1970s, land was seized again, this time to build the National Theatre.
People were then moved to Badia-East, some hundreds of meters away, where they continued to live until 2013, when the Lagos state government signed the current Home Ownership Mortgage Scheme (HOMS) meant to provide accessible mortgages to encourage first-time buyer residents to purchase homes. But the people at Ijora-Badia could never afford said affordable housing and instead find themselves homeless. RUDI founder, Mr. Agbodemu, led a team of protesters to Lagos state government House and made numerous attempts to defend evicted residents, but the government has yet to respond.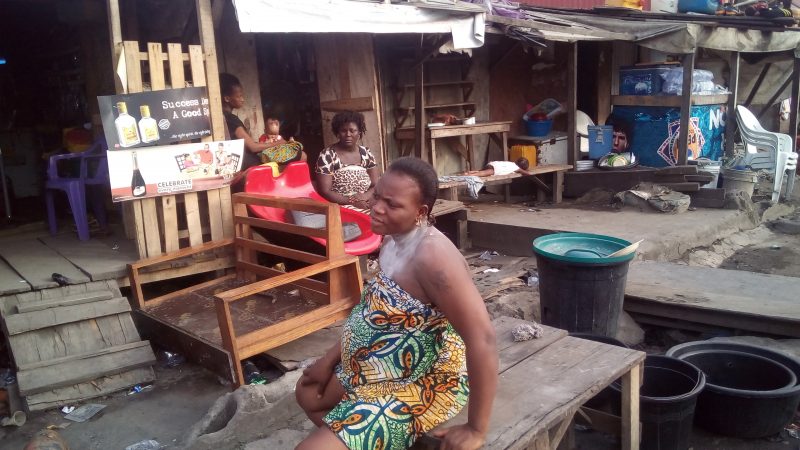 Temitope, 26, is pregnant and has been sleeping outside with her baby son.
Temitope, a 26 years-old mother, sleeps in the open with her baby. That night in 2015, when she asked what was happening, she was told that the bulldozers were clearing drainage. Then the destruction started and when she protested, a man pointed a gun at her summoning her to stay where she was, called her "a nuisance" and told her to move away. A widow and mother of four children including twins, 30 years old Taiwo Afeez also grew up in Ijora- Badia and owned a shop in front of her house. Now, her twins fell ill but she can't afford treatment. She said: " I don't want them to die from this. We are citizens of Nigeria but we have become displaced in our own country by the same government that is supposed to protect us."
Next to her, is 40 year old Kemi Malomo, a mother of four holding her son infected with boils and measles. Malomo claims that their water source has been sealed. She had rubbed a white substance on the measles as if to hide them from view. "Women are suffering. We have all become beggars competing in a bid to feed our family" Malomo says.
Dr. Adeolu Olusodo, founder of the Stars Clinic, explains: "people suffer from shock and anxiety, some have become hypertensive and others' condition have worsened." Among the illnesses directly related to the demolishing, Dr Olusodo also treats asthma and many injuries due to wrecked structures and sharp objects.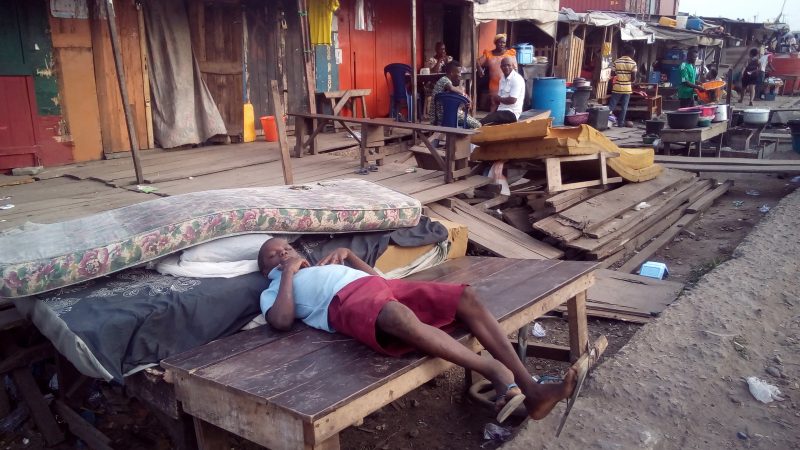 Lagos boy lying down in front of the rubbles of his house.
"When a settlement is demolished, another slum settlement is created elsewhere" he adds, "if government cannot house the poor who are the ones oiling the economy, it has failed in its duty." He looks at the rumbles in which paraphernalia of the residents' old lives are buried, the place looks like an earthquake zone with survivors bathing, sleeping in the open without protection from winds, rain sun or crime. All in the name of affordable housing.