HALF-WIDOWS OF KASHMIR
BY DANISH RENZU

Director Danish Renzu with his actors Neelofar Hamid, Mir Sarwar and Shahnawaz Bhat.
I come from the valley of Kashmir, a land of poets, artisans, timeless culture and breathtaking landscapes. A land of legends and faraway memories as told by our elders and kept alive in our imagination. Certainly, it is nowhere near the Kashmir I grew up in.
As a child there, I had a life punctuated by war: bombings, curfews, shutdowns, organized or random acts of oppression were our daily routine. I witnessed the death of my close friends and grew up hearing about acquaintances dying because of the Indo-Pakistani conflict over the valley of Kashmir. Everybody was busy blaming everybody else, and an uneasy feeling in the pit of my stomach kept growing inside me. It felt different than fear, I didn't know what it was then. Today, I believe that it came from watching innocence and faith in mankind die a little bit more in people's hearts with every new act of war that befell our communities.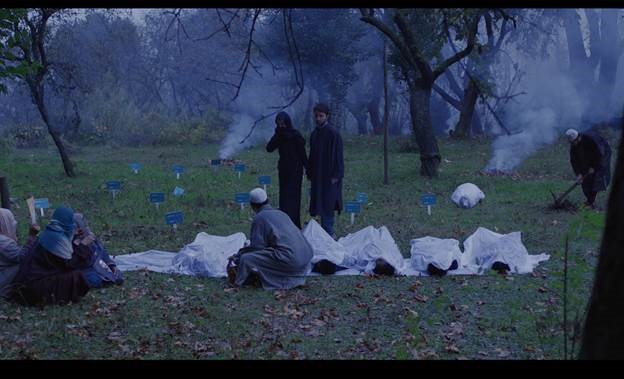 The unmarked graves — where men taken away by the armed forces buried and never accounted for.
Danger kept me indoors a lot so I started watching movies then moved on to making them casting my sisters and relatives. I then left to study in the United States and today, I return to Kashmir as a filmmaker with a project dedicated to the plight of "Half-Widows." Who can tell us better the human cost of conflict than these women whose very designation suggest they should be half dead themselves? They are in fact the wives and children of the victims of "enforced disappearances" that lasted over the war when men were taken away, "disappeared" for good in custody of security forces but that have never been declared dead either.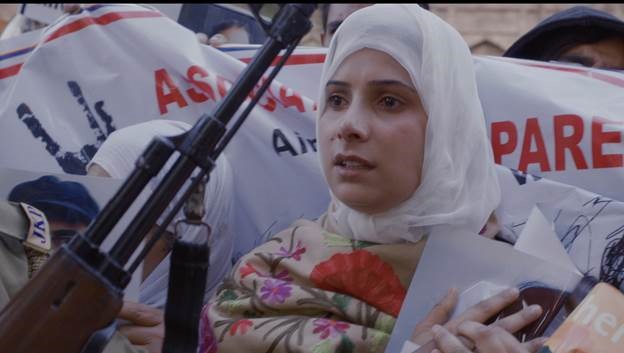 Half-widows monthly rally at Pratap Park in Srinagar.
Human rights groups in Kashmir say that data is difficult to collect but estimates say that at least 2500 'half-widows' live in the valley. With the state not acknowledging their disappearance, these women don't figure anywhere in the Jammu and Kashmir government's compensation scheme for people killed in the two-decade-long conflict.
Half Widow is for them. A story of a woman caught in history's torments but who finds redemption through education. As we make this film come true I, along with the crew, feel that by giving a voice to the true protagonists of history: the people of Kashmir, and especially its women, we were bringing back the possibility of innocence and faith to bloom back to life in the valley.