FAST AND FURTHER
BY CHRISTINA NIELSEN
I am a 24 years-old professional race driver presently racing in The WeatherTech Sports Car Championship with Ferrari team, Scuderia Corsa. I'm currently second in the championship and my co-drivers, Alessandro Balzan and Jeff Segal and I just won the "12 hours of Sebring", one of the biggest GT races in the world this year. I am thereby the first woman in history to win the 12 Hours of Sebring in our class. I am also racing in the European Le Mans Series and will be at the big 24 Hour race in France, Le Mans. I am also the only female driver in my class competing full season in The WeatherTech Sports Car Championship.

Kuno Wittimer and I celebrating as we finish second in the United SportsCar Championship

For the last 9 years, I have been fighting against the odds to prove myself that being a woman should never stop anyone from achieving their goals. It has cost me blood, sweat and tears but it has all been worth it.
My journey began with a small go-kart track in Denmark. I was 13 and my father was already a racer. A friend and I went to a rental go-kart center. I came home and asked my dad if we could go racing, he has been my biggest supporter since then.
I raced go-karts for 4 years before I moved to cars, formula Ford and Porsches, Aston Martin and my current car: the newest edition of the Ferrari Family, the Ferrari 488 GT3.
As I entered the world of long distance racing where you share a car with others, I discovered what it truly means to be part of a team and to share everything with a co-driver. To be surrounded by people who believe in you and to cross the path of many talented professionals such as my mentor, Allan Simonsen. A talented pilot and an inspirational man and I was blessed to have had the opportunity to race with him. Unfortunately he left us all too soon when he had a fatal accident at Le Mans during the season. It is individuals like him who made me who I am today.
To prepare me as much as he can to my life as a pro-driver, my father encouraged me to participate in championships all over the world. As a female, I soon realized it would take time to win people's respect. Thus, continuously racing in new environments was another limit to overcome each time I entered a new contest. The Middle East was particularly challenging and I will never forget the day I wasn't allowed to race at a championship round in Saudi-Arabia because females are just not allowed to drive cars there.

It was upsetting that I couldn't do what I love, which is to drive and compete, but more importantly, I was disappointed that I wasn't able to show the female audience there that we can compete equally with men, we can compete with them and we can also beat them.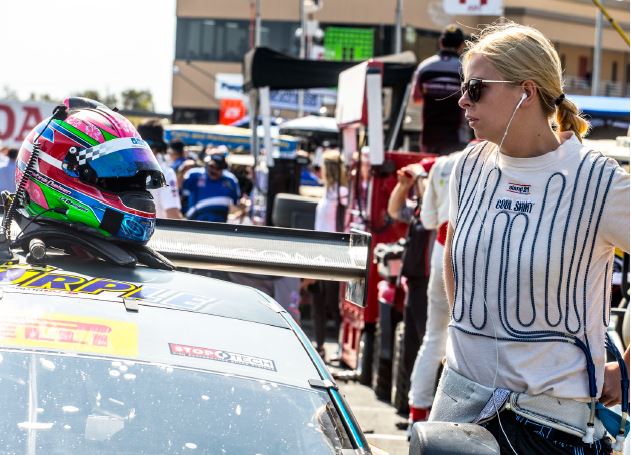 I raced the Aston Martin Vantage GT3 car during the Pirelli World Challenge Series. I finished first in the GTA class.
From the start I have decided that I'm not a female who's a race driver, I'm a race driver who's a female. By that I do not mean that I am not proud to be competing on a professional level as a female, but it means that first of all am proud to be on this level as a driver. I have experienced being pushed down and had to fight ten times harder. I have been doing this since I was 14 years old. It gets tough from time to time but the fight never wears me out. I look at it as the fuel to my fire.
Yet, staying strong, with the amount of pressure we athletes are subjected to can be overwhelming. I confront my doubts and insecurities. Of course I do. To make it in a tough environment you have to be able fight your personal battles as well as stand your ground. However as a racer, I am lucky to have two families supporting me. One back home only a phone call away that provides relentless support and comfort. The other one came with racing. To achieve a good result, everyone in a team needs to perform. We win together and we lose together along with our loyal fans.
My dad always says "Sometimes you cannot give back as much as you have received, but on other occasions you will be the one to give back." So many people have made this dream happen that I now race to give back.